GX-9
Category: GX-9 Publish Time: 2013-12-31 11:27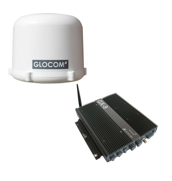 GX-9 Inmarsat FleetBroadband FB250 Class Terminal
Glocom's affordable GX-9 user terminal has been designed to bring a variety of communication services to the small and medium sized vessel owner/operator, including:

• Voice, using an efficient, low-rate AMBE encoder

• The internet with IP packet data up to 384 kbps downloads in a shared channel,

• Data streaming at 8,16, 32, 64, and 128 kbps, and

• 3.1KHz audio for fax and secured voice

The GX-9 provides global coverage, operating under Inmarsat's 4th generation BGAN (broadband global area network) satellites. Reliable communications when and where you need it.

The GX-9 consists of two separate modules: The ADE (Above Deck Equipment) and the BDE (Below Deck Equipment). These two modules are connected by a single coaxial cable.

The ADE features a helical antenna, a 3-axis stabilizer with automatic satellite tracking, a GPS receiver, and a front end RFU. The ADE is shielded in a compact, fiberglass cylindrical dome roughly 10.6" (27 cm) in height and 13" (33 cm) in diameter.

The BDE contains an enhanced FB250 core module with a crystal oscillator durable enough for the shock and vibration of the marine environment, a wide-range (11 to 32 vdc) DC/DC Power Module and an Interface Module. All this is housed in a small ruggedized chassis which can be mounted on a desk top or rack.



Prev product:No prev product
Next product:No next product